Our Five Year Anniversary!
A bacchanalian foresty freakout
Saturday April 19th
10pm till late 21 and over
Mission Control (2519 Mission Street)
Couples and chaperoned singles only (Click here for details of this policy)
WITH DJ SMOOVE, SCOTTY THE BLUE BUNNY, AND ROSE PISTOLA!!
So, apparently celebrating your Five Year Anniversary traditionally means you give the gift of WOOD, so lets give thanks for 5 years of amazing, lusty, creative, sex-positive, gorgeous, lush, inspiring community goodness with a romp into some ridiculous woodland adventures!
DJ Smoove (Newsbreakz) will be rockin' our funky beats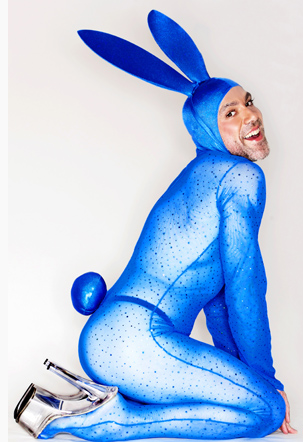 The eight foot tall bunny (from his ears to his stilettos) in a blue unitard will be here with his special blend of hilarious vaudville!!!! What more could we want??
Of course! Our favorite trouble maker returns with her Vintage, Modern and Death-Defying Burlesque for this special anniversary event!!
Dress: Woodland Critters, BUNNIES, beavers, fairies& nymphs & satyrs, campers, Little Red Riding Hood, druids, Magic Mushrooms, 'flowers on your bra', Julia Butterfly, Mr Toad, John Muir, Greenmen & Greenwomen, PAN, Woody Woodpecker (lol), toga-clad Dionysian revelers, Winnie The Pooh, May Queens and Kings, James Wood, Woody Harrelson, loggers& eco-activists, Hobbits- Elves & Ents (Middle Earth is HOT), Scott 'Plant Trees' Munson, Pagan Priestesses, WICKERMEN, Snow White, Park Rangers, etc. ALSO- sexy costumes, leather, latex, PVC, lingerie, always welcome. mersin escort PLEASE, NO STREET CLOTHES OR JEANS
WIN FREE KINKY SALON ENTRANCE FOR THE REST OF YOUR LIFE!!!
That's right, you heard us right. We are offering free lifetime entrance to Kinky Salon!
What do you have to do for this boon??? Just create something (ANYTHING) in this month's theme and send it to us! It could be a movie clip, a poem, a picture, music, ceramics, a painting, a comic strip…. anything at all. We will pick the top five, and then the community kadıköy escort will vote on the winner. DEADLINE for entries is April 12th. Don't be shy. DO IT NOW!!! Winners will be displayed in the Kinky Salon hall of fame for ETERNITY… eternity….eternity…!
Email your entry to iwannagetintokinkysalonfreefortherestofmylife@kinkysalon.com